Ecommerce Gladiator: Product Selection Notebook
Notebook for making sure you are always on the hunt for new products for the "arena"
---
Do you want to write down your product research instead of using a software tool?
Keep your product research secret while brainstorming and keeping that creative juice flowing?
That is why we created this Amazon FBA Seller Product Research E-commerce Notebook: Journal Your Research For Finding New Products To Sell Online Every Day by the crew here at E-Commerce Gladiator.
This modern and useful 6 x 9 inch (15.24 x 22.86 cm) blank college-ruled journal tracker notebook has been specially hand-designed for every kind of seller . Each page is a chance to grow yourself personally when you make progress in your e-commerce sales career.
The perfect companion for you when you want to get busy researching and document your knowledge without worrying about it being on some database server!
How does this Amazon FBA seller's notebook work?
---
Fill out all the info for your winning products.

Product #: a temporary unique code so you can refer to

Name: What is the "basic name" of this product - don't get fancy yet!

Reminders: here are common items to look for in the selection process

Category: what category - and how hard is this category

Brandable? Is this something you can build a long term asset around?

Weight: Is it heavy or light - for shipping costs

Seasonal? Will this sell year round?

Price Range: What is the price most of the competitors are selling it for?

Accessories? Is there a full product line to sell it under or a 1 product class?

Profit Margins: How much can you put in your pocket?

Daily Sales: how much is this selling in the current marketplace

# Reviews: Average number of reviews in the market

BSR Ranks: what is the best seller rank

Product Keywords: top 3 keywords that are money

Notes/Research/Opportunities: write down ideas and let it flow

Analysis Summary: What is the big takeaway?

Keep or Kill? Put this on the short list or cut it?
Using a product research journal is a great way to ensure that each day you are writing, finding out when is the best time to search, and have a bit of fun too!
Who Is This E-commerce Amazon FBA Journal For?
---
Entrepreneurs
For an entrepreneur who wants to start and needs to get pushed over the edge.
Gift for Loved One
Great gift for a boyfriend or girlfriend selling on Amazon, or one who is looking to get into the game
Mentor
For ecommerce mentors and coaches. A father can coach their kids with this.
---
6" x 9" Paperback notebook

120 pages of high quality white paper (60 sheets)

Quality, Soft matte coated cover

Perfect for writing using pens, pencils, gel pens, ball points.

Used as a journal, notebook or just a composition book

Great size to carry everywhere in your work or school bag, get to high school, college, office, or just to brainstorm

Makes a great present: Christmas gift, stocking stuff, birthday, office secret santa, etc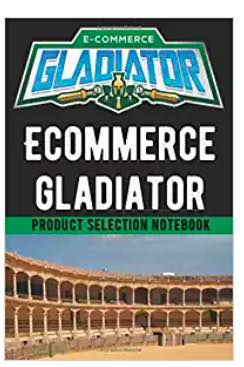 So what are you waiting for?
---
Grab this practical and useful seller notebook today and start generating ideas more in a systematized way, make it happen!
---