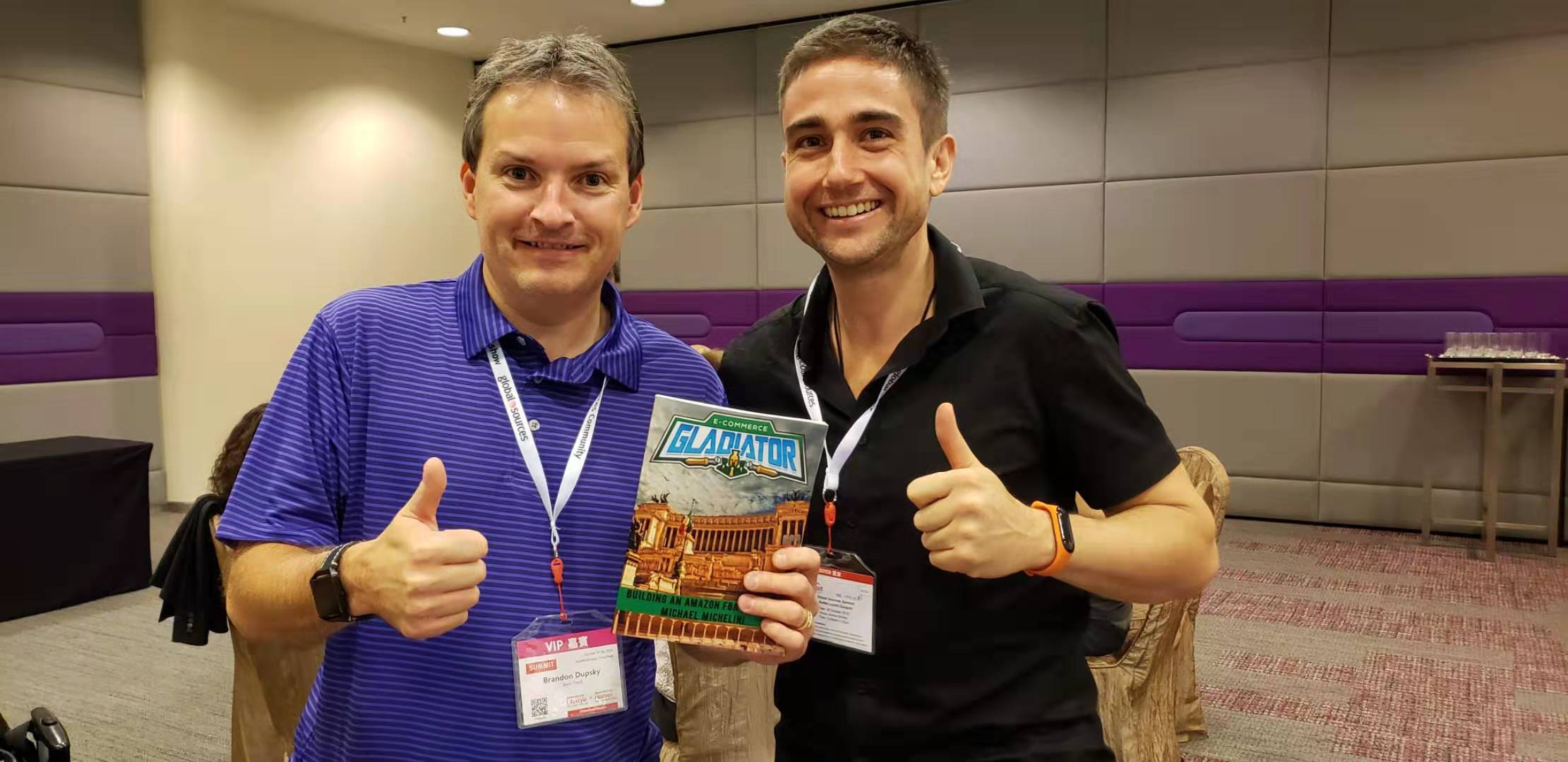 Download it today or order print copy to your door!
Ecommerce Gladiator: The Book
By Michael Michelini
Learn How To Launch And Grow An Amazon FBA Company
A Journey Of A Group Of Entrepreneurs With Lessons And Actionable Tips
Learn While Being Entertained
, This Is Much Different Than A Course
| Buy eBook on Amazon
About The Book
Learn
Get actionable insights by a group of entrepreneurs taking action and getting the Amazon FBA company launched.
Entertainment
Hear the ups and downs, and emotions of a group of business owners and investors who venture out in the Amazon FBA arena
Real Life Tips
Don't lose thousands of dollars making mistakes. Hear the real deal stories of how to get things done.
Meet The Author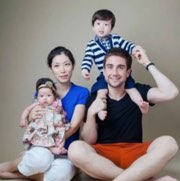 American social media & e-commerce specialist being China since late 2007, I'm passionate to help companies do business in Asia leveraging the power of content marketing and e-commerce. I host a weekly podcast GlobalFromAsia.com to help businesses understand how to do business in China and other parts of Asia. After years of hosting the blog and podcast, we now have a Asia business marketplace, GlobalFromAsia.com/market to help making doing business here as easy as buying online.
Look forward to seeing your business become a success.
Dear Mike,

I just finished your book, E-Commerce Gladiator.

My we have certainly come a long way from our days in the sourcing business.

While I have retired from the business world and am taking it (sorta) easy, you have grown in leaps and bounds. I'm proud of you.
The book is clearly written and a wonderful resource and guide for anyone interested in e-commerce.
Further, I very much enjoyed the format it was written in, showing that nothing comes easy, and organization is of upmost importance. And that no matter how much you try to plan, problems do arise. It is a step by step guide and a genesis of an online business. Great work.

It also seems to me (or maybe not) that some/many of the points you make, you and I had discussed in the passed. So I guess that much of the "stuff" we talked about actually did make an impression. I'm glad it did.

As I said above, I'm proud of the man and businessman you have become.

Alan Kaufman
E-Commerce Gladiator: Story of Building an Amazon FBA Company To Sale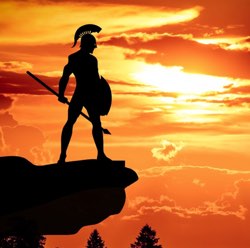 You really need this book because it will motivate you to take action in your Amazon business. So many of us are sitting in the sidelines, in the audience – but we need to be a gladiator, and get in the arena. Do it now.
| Buy eBook and do it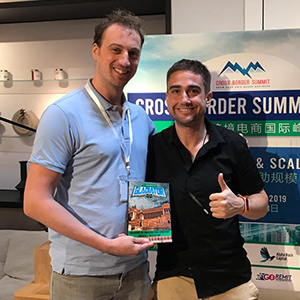 Hi Mike. I have read you book on the flight back to Shanghai. Thank you for writing it as it gave me goose bumps to realize I am not alone. Although I am not an Amazon seller the journey of sourcing and shipping from China is very real for me too. For 8 years have been running a trading and logistics business. Some into a 9 figure business some failed miserably. Tried to handover my role to a new management which ended up back on my shoulders again. The most painful for me is not the sourcing part as you can control most of it by being on top of it. The most painful is that even though you want others in as the "genius" behind the product it will always be YOUR baby and no one elses'. The biggest obstacle to overcome is me, my mindset and my ability to dominate. Just like with you the human factor sometimes slows me down too. Anyway long story short. Thanks for what you are doing and I will make my story known to the outside world to pay it forward!

Simon de Raadt (西蒙) China Expert | Cross-Border E-Commerce | Speaker | Sourcing | Logistics
Want to learn how to launch and grow an Amazon FBA Company?
Learn firsthand in this mix of a story and lessons learned book of a journey raising money, setting up a company, creating a product and brand, and all the way to acquisition.
E-Commerce Gladiator book is for you if you
Learn: Want to read a book that goes through the process of starting an Amazon FBA company from beginning to exit.
Experience: Enjoy reading a business novel that intertwines a journey of a group of entrepreneurs with lessons and actionable tips.
As with many of the books Michael Michelini has written, it is a balance of his journey in a specific business endeavor with each chapter having a tips and lessons learned section. You can choose to read only the story and skip the tips, or vice versa and only read the tips and lessons learned section.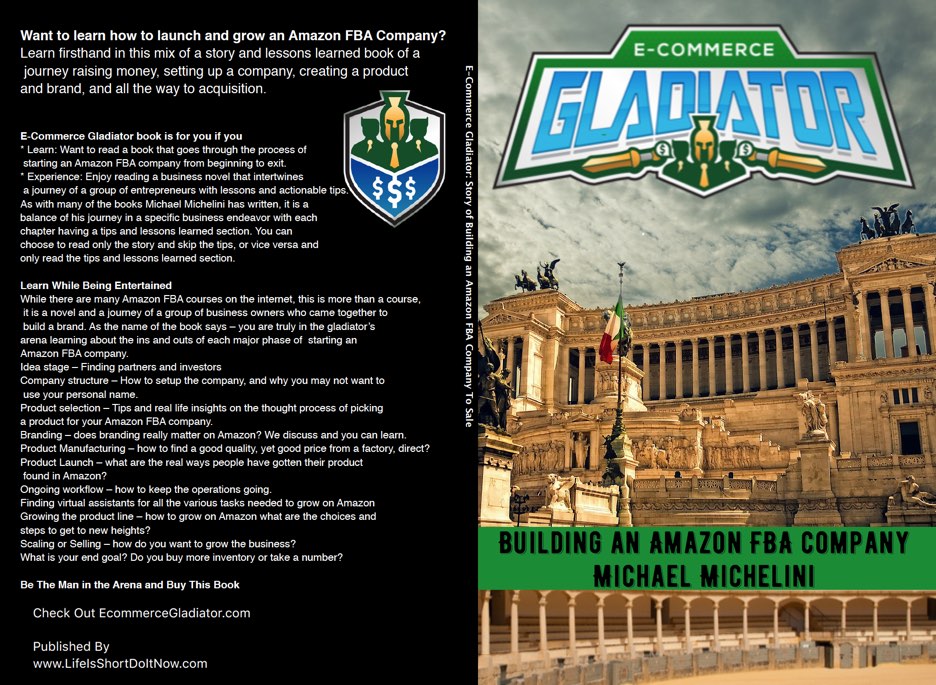 Learn While Being Entertained
While there are many Amazon FBA courses on the internet, this is more than a course, it is a novel and a journey of a group of business owners who came together to build a brand.
---
As the name of the book says
You are truly in the gladiator's arena learning about the ins and outs of each major phase of starting an Amazon FBA company.
Idea stage
Finding partners and investors
Company structure
How to setup the company, and why you may not want to use your personal name.
Product selection
Tips and real life insights on the thought process of picking a product for your Amazon FBA company.
Branding
Does branding really matter on Amazon? We discuss and you can learn.
Product Manufacturing
How to find a good quality, yet good price from a factory, direct?
Product Launch
What are the real ways people have gotten their product found in Amazon?
Ongoing workflow
How to keep the operations going. Finding virtual assistants for all the various tasks needed to grow on Amazon
Growing the product line
How to grow on Amazon what are the choices and steps to get to new heights?
Scaling or Selling
How do you want to grow the business? What is your end goal? Do you buy more inventory or take a number?
Be The Man in the Arena and Buy This Book
Being a seller on Amazon FBA is similar to being a gladiator in ancient Rome. You need to be strong and nimble. You are dealing with factories on one side and Amazon FBA on the other. Then you are in the arena with customers looking for freebies and competitors looking to black hat you to death.
It is all inside the Ecommerce Gladiator and we hope you get inspired to be, or grow, as an Ecommerce Gladiator yourself!
Buy your copy now!
Grab on Amazon Kindle (or Print) Today!
---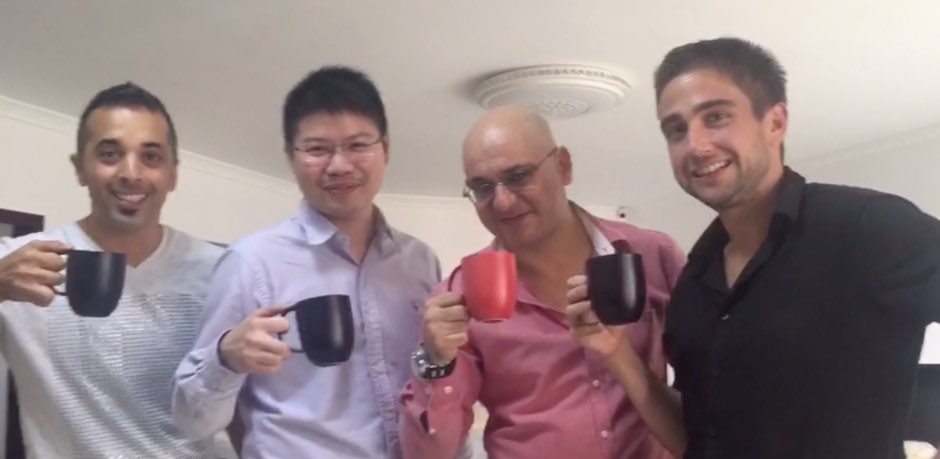 Photos with the Author
Mike loves meeting fans and readers. Here are some along the way.
---
---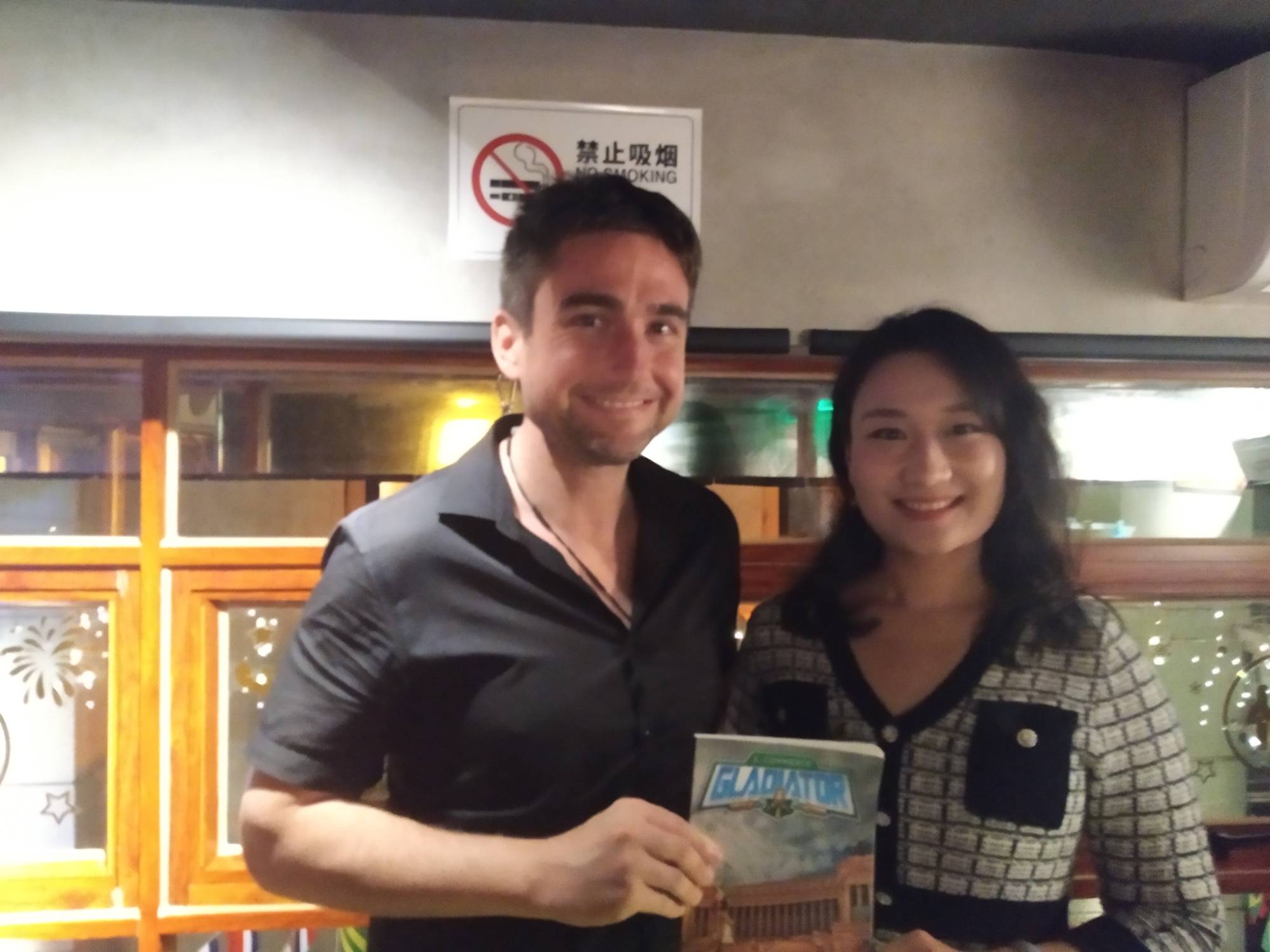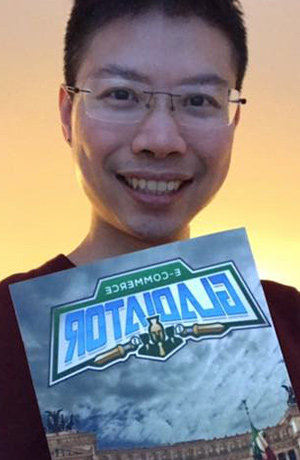 I want to give a big thanks to Mike for having me here and also for doing the e-commerce project together. It was an awesome, really great experience, I of course I learned a lot about doing e-commerce business. This is my first e-commerce or FBA business in fact and also doing business in China in general.


I learned a lot on how to being organized or working with people 24/7 all through the internet. We had Freelancers and VA's and yeah, it requires a totally new set of skills. So it was, sometimes, it's overwhelming to be honest, but we got through a lot of the obstacles and I was very happy when we had our first product on Amazon selling and yeah, I just think it was amazing.

Cadrian Chan